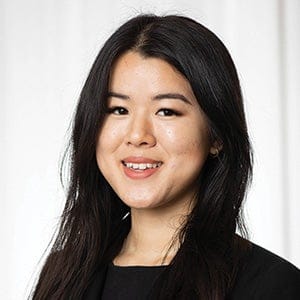 Tell us about yourself
My name is Jalee Chen and I studied at the University of New South Wales. I graduated with a Bachelors of Commerce / Science, majoring in finance and statistics. In my second year of university, I interned at Pitcher Partners in Private Business and Family Advisory which built my foundational understanding of financial statements. The following year, I interned at Macquarie Infrastructure and Real Assets in the real estate team. The experience allowed me to further my understanding of corporate finance and apply it in a practical way. However, seeking a faster-paced role, I came to Moelis through their Summer Analyst Program. When I was not interning or studying, I partook in a number of student societies, case competitions and social oz-tag.
How did you come to MA Financial Group?
I first heard about MA Financial Group from university events and through friends. Whilst I was interning at Macquarie, we dealt with MA Financial Group on a few occasions. I realised that was more aligned with what I was interested in doing for my career. When conducting research into prospective firms, I quickly became compelled by MA Financial's growth story and its focus on real estate. As a result, I applied for the 2020 Summer Analyst program and stayed on to become a full-time analyst.
Tell us about your Summer Analyst experience in Corporate Advisory
From day one of the Summer Analyst program, I felt supported by my buddy and my broader team. Prior to starting, my buddy and other members of the team reached out to grab a coffee and provided insights on how to prepare myself for the summer. The Summer Analyst program was well structured with different training modules and objectives spaced out over the course of the internship. The Real Estate team was great at establishing a social team culture through team lunches and Friday drinks. Our intern farewell drinks, organised by the company, were a great way to wrap up our time at MA Financial and celebrate with our broader teams.
What were the highlights?
My personal highlight was the Christmas Party we had during our first week of the internship. We were able to get to know and build rapport with our team in a different environment. It helped break the ice and was a good introduction to the culture at MA Financial. Additionally, finishing my intern project was extremely rewarding as I was able to definitively see how much I had learned over the summer and it marked the end of a stressful week. The intern project was structured to allow us to apply our learning from training with the support of our project sponsor.
Can you describe a typical workday at MA Financial Group?
There is no way to describe a typical workday, every day is different. At MA Financial, I was given the opportunity to work on various transactions and gained exposure to many different clients. As an intern, I focused on how I could support my broader team and help meet their needs. Through this, I was able to work across numerous transactions and develop a wide set of skills.
What are three pieces of advice you'd give to students applying for an internship program at MA Financial Group?
Be ready to learn – the internship is the perfect way to learn from industry experts and having a good attitude towards learning will go a long way in your personal development
Hold yourself accountable for your work – as a part of the team, you are entrusted with responsibilities and it is up to you to keep track of your work
Apply yourself at work – be curious and try to understand the broader ideas / bigger picture.
How would you describe MA Financial Group to a student?
MA Financial encompasses asset management (managing $5.4bn AUM), equities and corporate advisory and the firm aims to generate deeper value for its clients. The founding members have vested interests in the company and therefore have a strong presence across the floor. As a result, senior management has a strong focus on fostering talent in the junior staff. Whilst investment banking is a traditional industry, MA Financial has a start-up spirit and a mandate for innovation.
What's next for you?
After the intern program, I was fortunate enough to be offered a graduate position. Due to the business need, I had the flexibility of starting straight off the back of my internship. I recently started as a graduate (after a 6-week break) and I am looking forward to furthering my knowledge and deepening my expertise in the industry. I intend to continue to learn from the brightest minds and build out my network.